All healthcare and nursing services at Gowran Abbey Nursing Home are planned and managed by the Medical Director and Registered Person In Charge complemented by:
Board of Directors - Dr. Finian Gallagher, Dr. Joe Sweeney, Dr. Val Lonergan and Sinead Keating
Staff Nurses
Care Assistants (Fetac Level 5)
Qualified Chefs
Ancillary Staff
Activity Co-ordinator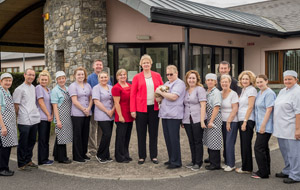 Managed by local GPs
Managed by three local doctors Gowran Abbey Nursing Home Kilkenny and Gowran Abbey Retirement Village Kilkenny are important facilities for families in Kilkenny, Ireland's Southeast and Dublin. Each resident in our facility receives the highest standards of health and pastoral care.
Would you like to join our Team?
If you wish to enquire about joining our team please email: admin@gowranabbeynursinghome.ie
 We provide continuing education and professional development for our staff to enable them to meet the varying complex needs of our residents.